Spiritual Readings of Paranormal Phenomenon
Published by: Happy Science | 2021
Case One
An Out-of-Body Experience of a Man with a Goblin-like Spiritual Body
Case Two
Who Appeared in the Canadian Lecturer's Dream the Night before Her Seminar?
Case Three
Three Girls in New York Get a Nosebleed at the Same Time
Case Four
Millions of Hamsters in a Dream
Case Five
Having a Dream of a Hole and Encoutering a UFO in Italy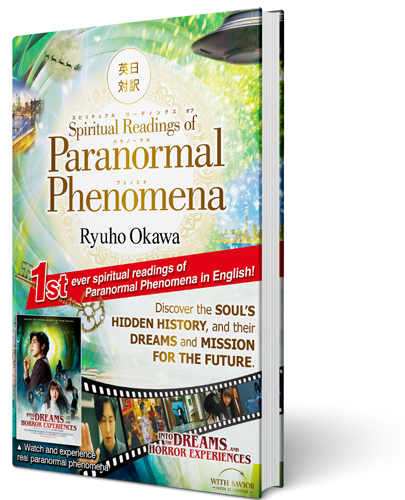 About this book: Spiritual Readings of Paranormal Phenomenon
In case 1, what is the special abilities of the man with a goblin-like spiritual body? In case 2, who were the two mysterious figures who appeared before a Canadian lecturer's dream? In case 3, were space people involved with three girls whose noses bled at the same time in New York?
In case 4, what was the hidden meaning of a woman dreaming of millions of hamsters? And in case 5, what is the special role in the spirit world of a man who fell down a hole with many grappling hands?
Discover the soul's hidden history, and their dreams and mission for the future.
Available only at all Happy Science temples and branches.