The Laws of Steel
Living a Life of Resilience, Confidence and Prosperity
Published by: IRH Press | 2020
Chapter One
The Mindset to Invite Prosperity
Chapter Two
The Law of Cause and Effect
Chapter Three
Fulfilling Noblesse Oblige
Chapter Four
Be Confident in Your Life 
Chapter Six
The Power to Make Miracles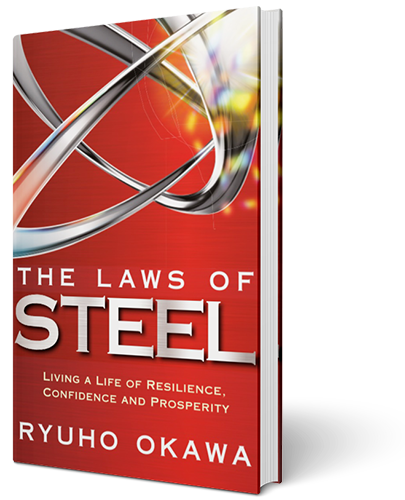 About this book: The Laws of Steel
A sword that has both strength and resilience is made after being heated till its firing red, hammered, stretched, and polished. The 'Laws Series' book by Master Ryuho Okawa, published yearly shows us the direction that the world should head, and this year's book teaches us how to live a life with strength and resilience. 
In the world today, there are many catastrophes that make it difficult for us to envision a brighter future, for example natural disasters, the U.S.-China trade war, and human suppression by the Chinese government. But not this book; it has powerful messages that teaches us how humans are gifted with the ability to polish ourselves, grow, and cut open our future. 
By reading this book once, you will realize how much of a precious being you are, and have the power to overcome difficulties bubbling up from inside of you.
Also available at major US bookstores and Happy Science temples.